OPEN DAILY 7AM-10PM


EMPLOYMENT
WELCOME TO KEN'S MARKET QUEEN ANNE
(206) 282-1100
2400 6TH AVE. W
SEATTLE, WA 98119

SOUPS OF THE DAY

*Our Homemade Soups are also available cold in To-Go Containers!
DELI SPECIALS

Turkey Diamante Sandwich
Our Signature Sandwich! Made on Essential Baking Co. Rosemary Diamante Bread w/Oven Roasted Turkey, lettuce & tomato.
Soups & Deli Specials Updated
Thu. 06/29 - 1:04 pm
"Summer: Hair gets lighter. Skin gets darker. Water gets warmer. Drinks get colder. Music gets louder. Nights get longer. Life gets better."
- Anonymous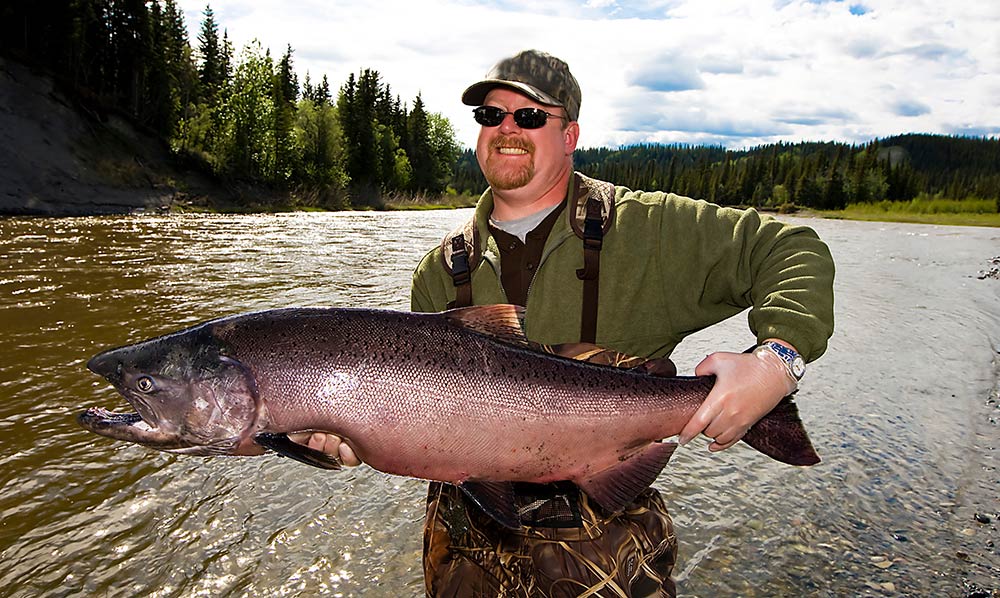 Copper River Salmon is Here!
Copper River Wild Salmon journeys up the most rugged wild salmon run anywhere, the clean, unspoiled, icy-cold Copper River in Alaska. These salmon store extra fat and oils in order to make this long journey up-river. This high fat and oil content is why Copper River Wild Salmon is the best tasting and highest quality salmon available anywhere. It's only available May through June, so don't miss out! For the early 2023 season pricing, please stop in or call 206-282-1100 for today's prices.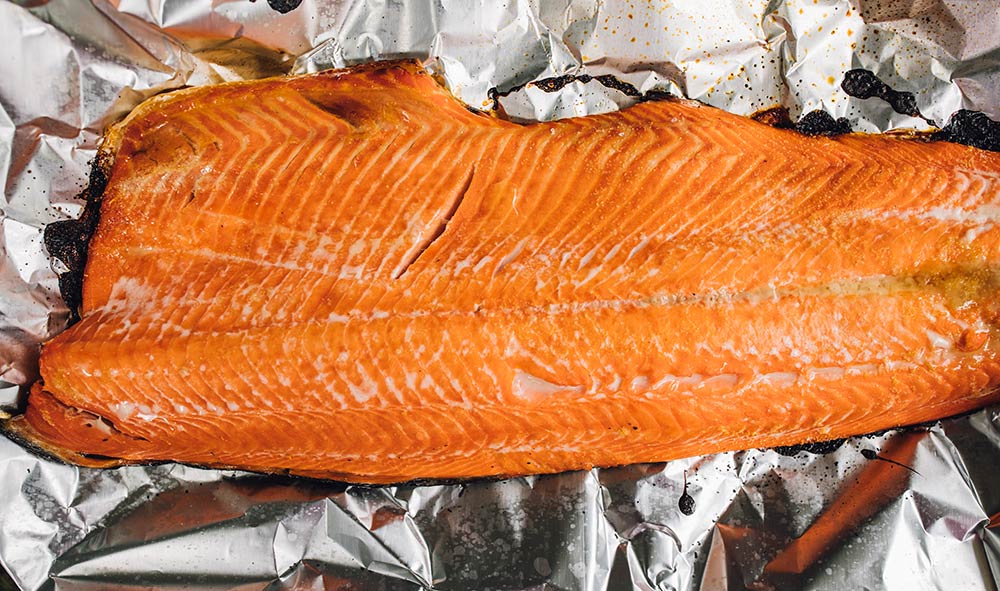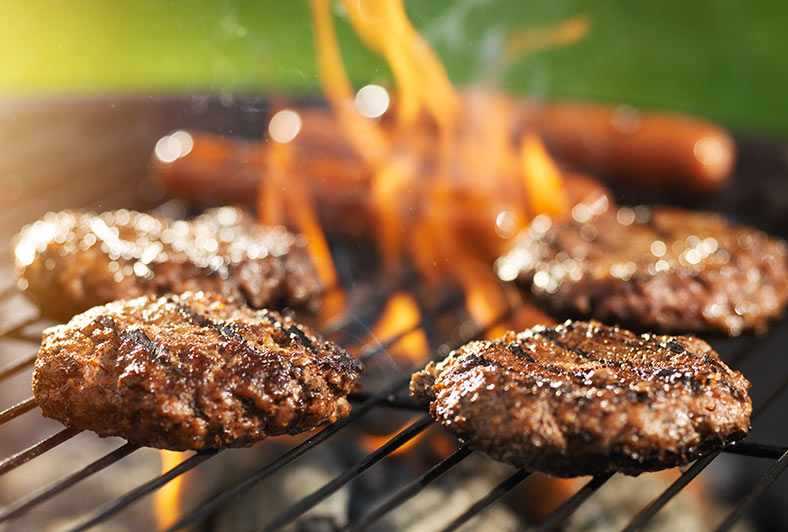 />
It's BBQ Time
We're also a one stop shop for your BBQ needs. Our meat department carries all-natural Painted Hills beef from Oregon and we can cut your steaks to order so you can drop the thickest T-bone steak on the grill. Does a thick and juicy barbecued hamburger sound good? Then you'll want to pick up a package of our in-house ground beef, which is ground fresh daily from high-quality, all-natural beef. We've also got a great selection of quality hot dogs and sausages for grilling. Chicken on the BBQ is terrific and we carry exclusively Washington and Oregon sustainably-raised chicken from Draper Valley Farms.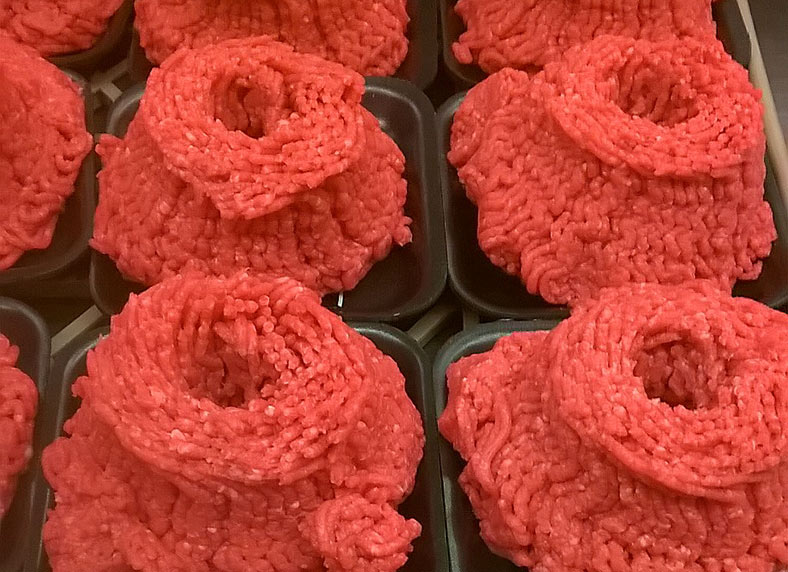 Why not grill up some veggies while you're at it? Sear grill marks onto some sunny yellow corn-on-the-cob, crisp red or yellow peppers or sliced zucchini. Don't forget the side dishes from our deli: creamy potato salad, pasta or macaroni salads, fruit salads and cole slaw.
We've also got what you need to get your BBQ blazing: classic and original Kingsford briquets, Lazzari Mesquite Charcoal briquets and alder, apple, cherry and hickory smoking chips to give your food that complex, smoky, outdoor flavor.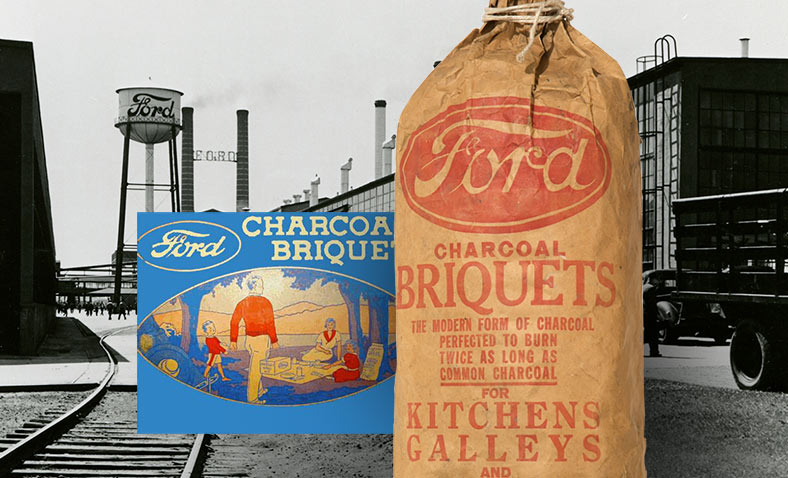 American History - The Charcoal Briquet
Even though humans have been cooking meat over a smoky fire since the dawn of time, there's a reason a backyard BBQ seems so American, the charcoal briquet was invented here and, believe it or not, first sold by the Ford Motor Company. How did this come about? Well, back in the summer of 1919, real estate agent Edward G. Kingsford was invited on a camping trip by his wife's cousin, Henry Ford. The camping group of adventurers called themselves the Vagabonds, and included Thomas Edison, the tire magnate Harvey Firestone and the naturalist John Burroughs.
Henry Ford needed lots of timber to build his Model T's, and Kingsford helped the industrialist acquire 313,000 acres of timberland to feed Ford's sawmill and parts plant. The mill also produced a lot of waste in the form of stumps, branches and sawdust, which irked Ford. A University of Oregon chemist named Orin Stafford had invented a method for making lumps of fuel from sawdust and mill waste combined with tar and bound together with cornstarch, so charcoal briquets were born. By the 1930's, Ford dealerships sold "Picnic Kits" containing charcoal and portable grills, capitalizing on the link between motoring and outdoor adventure that his own Vagabond travels popularized. "Enjoy a modern picnic," the package suggested. "Sizzling broiled meats, steaming coffee, toasted sandwiches." Ford Charcoal was purchased in 1951, renamed Kingsford Charcoal and stocked in grocery stores from then on.
(Article condensed from Who Made That Charcoal Briquette? in The New York Times Magazine).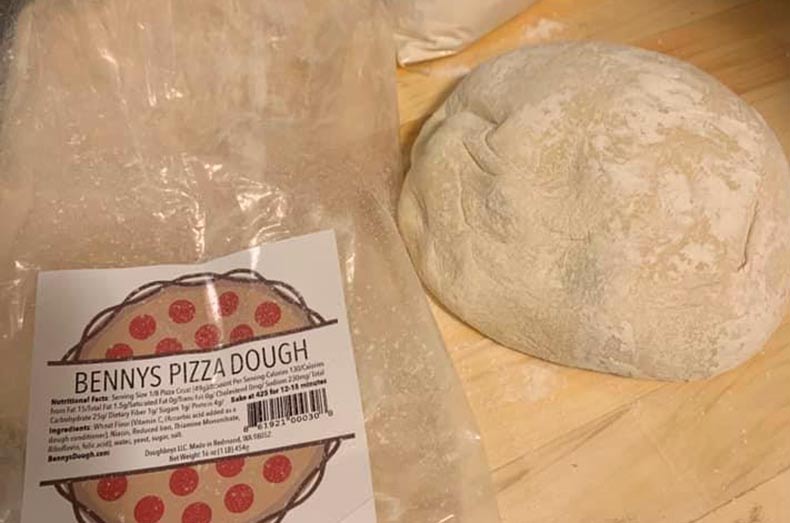 Benny's Pizza Dough
Homemade pizza tonight, anyone? You can with Benny's Pizza Dough. Stop in to Ken's Q.A. and check in the refrigerated area.
Why not turn your kitchen into a pizzeria and make homemade pizza your way? So, now we can become a pizzaiolo anytime and make a premium pizza that is quick and easy.
This dough is very versatile. The frozen dough will last up to 6 months in your freezer. Surprise your family by creating cinnamon rolls for breakfast or garlic butter rolls some evening… maybe for tonight! There's never been a better time! Better get to Ken's QA while we've still got some!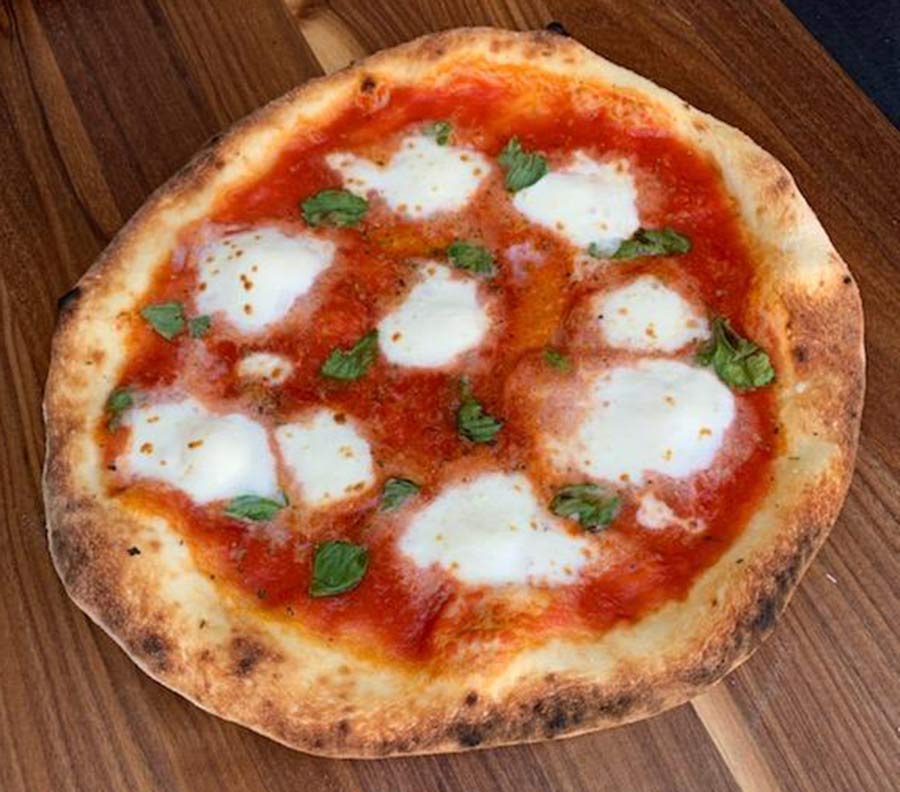 Featured Beer, Wine & Spirits
from Four Roses Distillery, Lawrenceburg, KY
from Aviation American Gin, Portland, OR
from Reuben's Brews, Seattle, WA
Legendary Customer Service
Customer service is what we're really all about. We can help you find the right bottle of wine, or our butcher will cut your steak to your specifications, or our friendly deli staff will create your lunch sandwich to order so it's exactly what you are craving, all with a smile and a shared laugh. We stock hand-selected, high quality products as part of our commitment to service. We proudly feature restaurant-quality soup, sandwiches and deli entreés made on-site. We make sure we offer lots of healthy options in our grocery items, including organic, gluten-free and low-glycemic. Our products are locally sourced whenever possible. We feature high-quality, pasture-raised beef, free-range chicken and wild caught Pacific salmon.
Ken's Market Queen Anne is locally owned and managed by 3 guys who grew up working here, so the grocery business is in their blood. They are passionate about making this the best store it can be and providing the highest level of service and product quality.
Read more about us.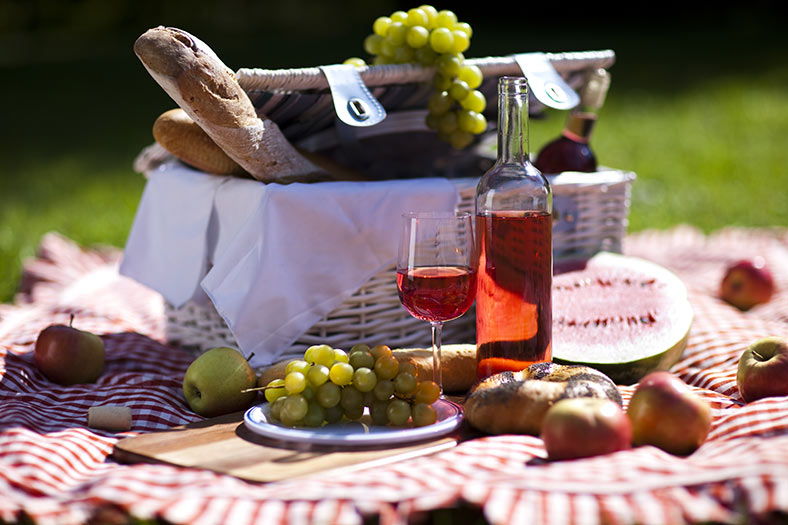 Summertime & the Living is Easy
The smell of freshly cut grass, the sound of an ice cream truck's endlessly repeated melody, and the gentle breeze that blows through open windows and doorways all tell us that sunny summer is here. There will be BBQ's and picnics, boating and day trips, parties for children and adults. Before your summer event or trip, stop by Ken's Market Queen Anne for your seasonal provisions to make sure your fridge or cooler is well stocked with our delicious offerings.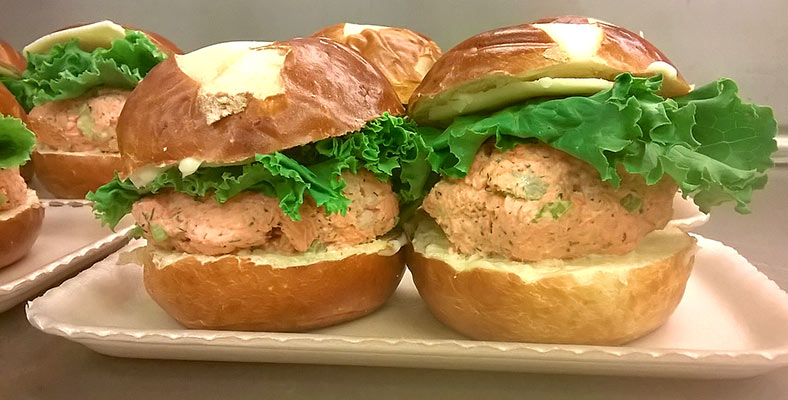 For a perfect picnic, check out our deli for ready-to-go sandwiches and salads, like our handmade halibut and salmon salad (with dill, red onion and celery) that you can get by the container, or thickly slathered on a pretzel roll sandwich topped with crisp, green lettuce and a slice of creamy havarti cheese. Or pick up our famous signature Turkey Diamonte sandwich (made in-house fresh daily with oven-roasted turkey breast) or our Italian "Co-Pilot" sandwich (salami, provolone, olive oil, salt & pepper on a soft French roll), find out more on our Deli Page. We have a fantastic selection of hand-crafted salads ready-to-go, complete with salad dressing on the side. We also always stock a great variety of fresh fruit trays and veggie trays for healthy eating on the go! Here's a list of just some of the salads we carry (although not always all of them all the time):
Fresh Sockeye Salmon Salad
Halibut Salad
Caprese Salad
Italian Chef Salad
Chicken Salad
Chicken and Spinach w/Hazelnuts Salad
Thai Noodle Salad w/Spicy Peanut Sauce
Tuna Salad w/Lime Cilantro Dressing Classic Romaine Salad
Blue Cheese Salad
Candied Walnut Salad w/Raspberry Dressing
Taco Salad
Tarragon Chicken Salad w/Slivered Almonds
Asian Chicken Salad with Sesame Dressing
Ken's Own Caesar Salad (the real deal with parmesan, egg, lemon and anchovy)
Chicken Caesar Salad w/black olives and tomatoes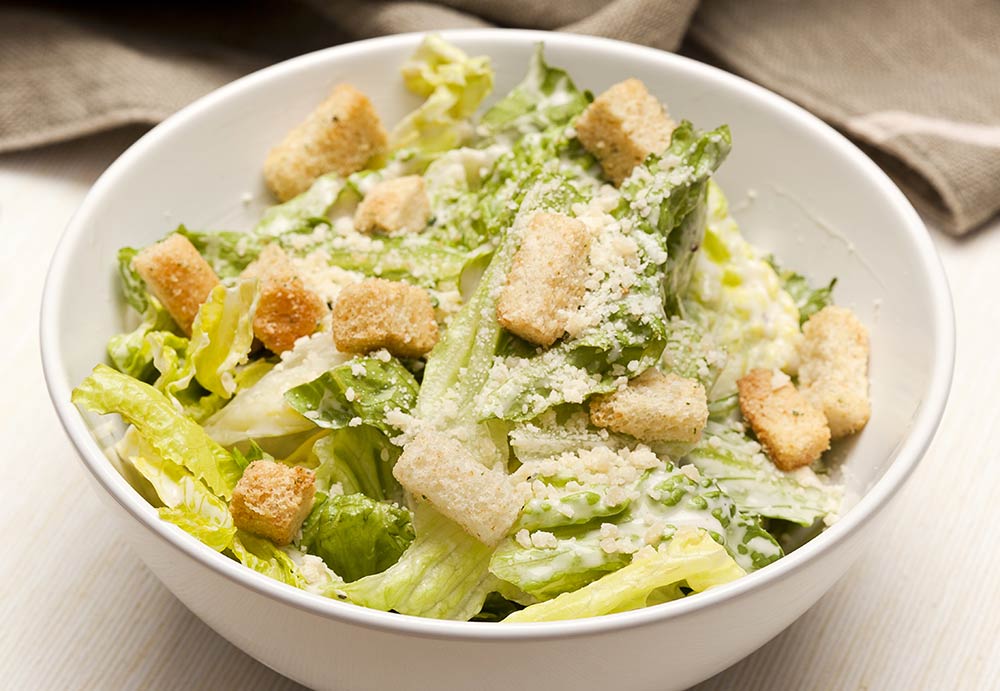 Ken's Own In-House Co-Pilot Sandwich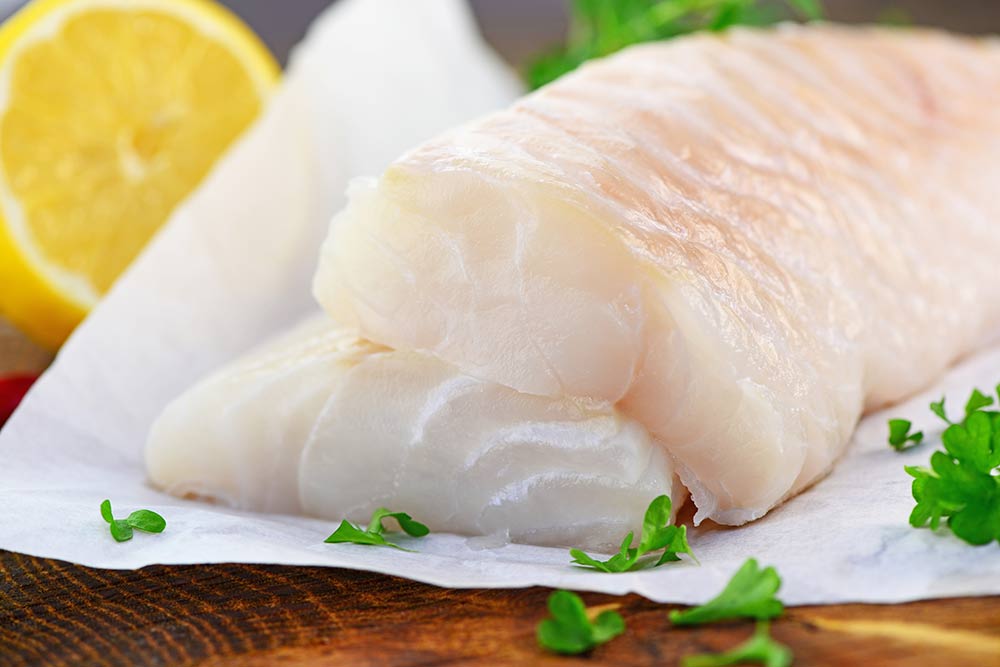 HALIBUT - We have the freshest catch!
Stop in and ask Joe, our fishmonger, for a beautiful cut of healthy, versatile and juicy halibut. Caught in the cold waters of the Pacific Northwest and selected by Joe down at the docks, right off the boats. It doesn't get any fresher than this!
Halibut has a firm, white flesh with a delicate, mild flavor. It is also a highly nutritious fish. It is full of high-quality protein but low in fat compared to other types of fish. Halibut is rich in omega-3 fatty acids and a good source of calcium and B vitamins. These nutrients offer a variety of benefits, including reducing inflammation, improving heart health, and supporting brain function.
Halibut can be prepared so many ways. My favorite recipe for moist, flaky halibut is easy to prepare and clean up too:
BAKED HALIBUT
Pat the halibut dry with a paper towel. Place halibut filet on a large section of foil (a little longer and about 4 times the width of the fish), sprinkle both sides with a pinch of garlic salt and white pepper and top with a thin slice of lemon. Then close the foil over the fish loosely in a tent, making an air pocket above the fish. Place foil wrapped fish on baking sheet and bake at 350° for 10 to 12 minutes until no longer translucent, but white and firm. The fish will be flaky, moist and delicious. You may want to pour any juices left in foil over fish to serve. You will be in seafood heaven! This gourmet delight pairs perfectly with a chilled Pinot Gris from our wine selection.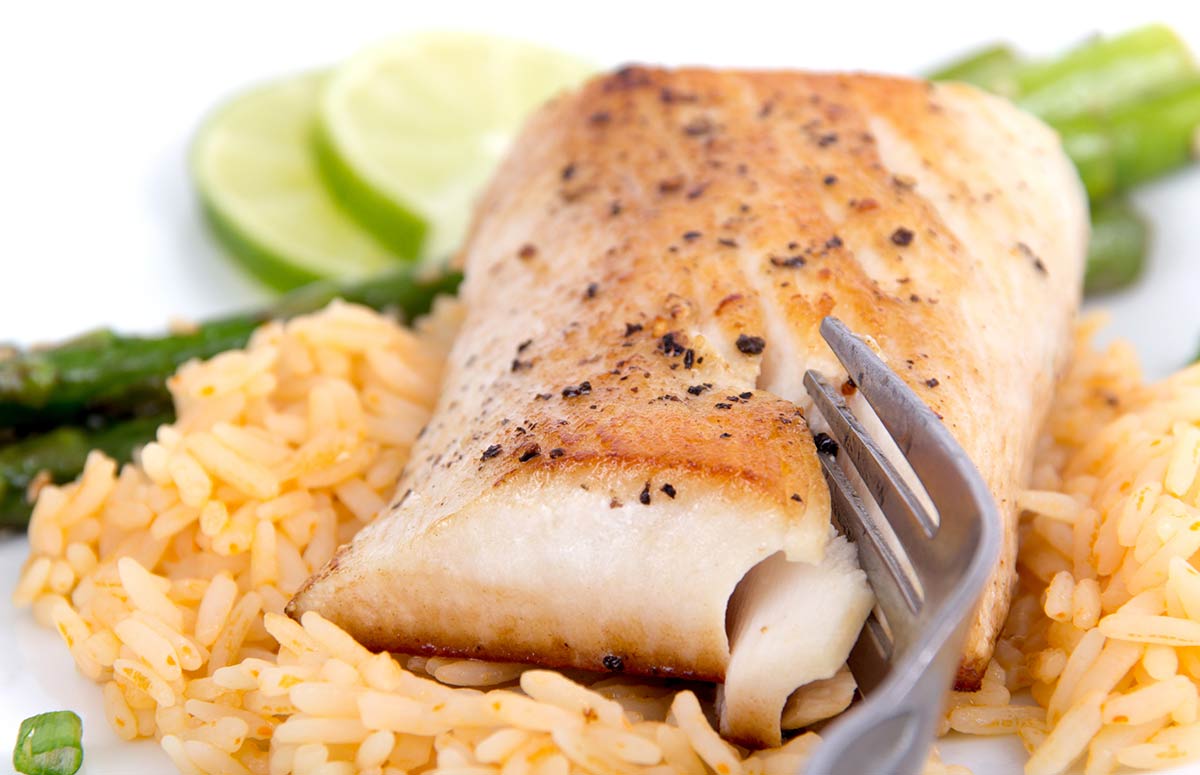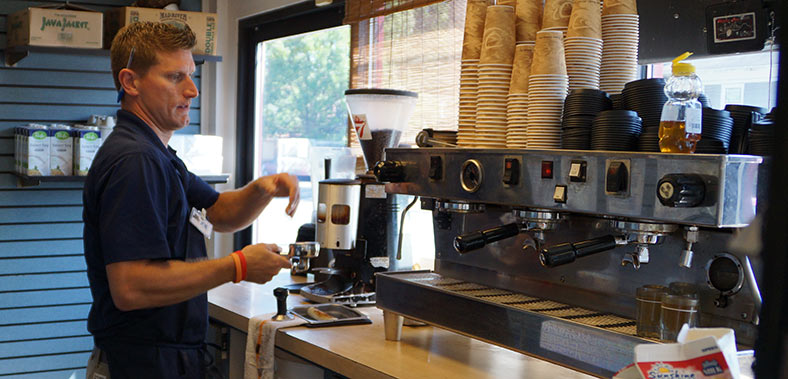 Espresso Bar
Seattle is a coffee town so what market would be complete without an espresso bar? We have a wide range of coffee and espresso drinks available, with a great selection of flavors we can add to make it just the way you like it.
Outside the store is our drive-up espresso, just park, hop out, and place your order at the window, no need to go into the store. Our experienced barista will create your custom latte to order. During the summer we offer iced lattes and frosty blended coffee drinks. We also have bakery items available to complement your espresso drink. The coffee beans we use for our espresso are from Seven Coffee Roasters. Seven is a local company who roasts their beans nearby in Ballard, so they are super fresh. If you're not a coffee drinker, we can brew you some tea. We carry a variety, including black, chai, herbal and green tea.
When you're running short on time in the morning, stop in, grab a coffee and pair that with a breakfast cookie from Erin Baker's, chock-full of nutrients, low in sugar and hearty enough to keep you going until lunch.
There are bistro tables and chairs available for when the weather's nice. Relax and enjoy your breakfast or lunch from our deli - al fresco, along with coffee, a latte or tea.
Inside the store, near the cashier, is our coffee bar, with excellent drip coffee. At any one time, we feature up to 6 different kinds of hot brewed coffee from various local roasters, such as Seven, Zoka Coffee, Stamp Act Coffee, Lighthouse Roaster, Radial Coffee Roasters, Queen Anne Roasters, and Ladro Roasters.
---